Before the 2016 election, Mike Lindell sat comfortably on an empire built on pillows. He was the epitome of the American dream. Interestingly, he was an inspirational rags-to-riches story of a man who managed to overcome drug addiction and then launched what later became a highly successful business, My Pillow.
Apart from the massive fortune, Mike earned a modest level of fame due to his ubiquitous self-starring infomercials.
By Mike's estimation, My Pillow was generating around $110 million in gross revenue annually before he became a controversial public figure. Looking at comparable businesses, My Pillow easily might have been worth $300-500 million if it had ever decided to go for buy-out offers.
In that context, recent conservative estimates stated That Mike's net worth was at least $100 million. One may argue that his net worth could have been higher based on the highest potential enterprise value of My Pillow. Some analysts say that Mike Lindell might have had a net worth of $200-300 million at some point.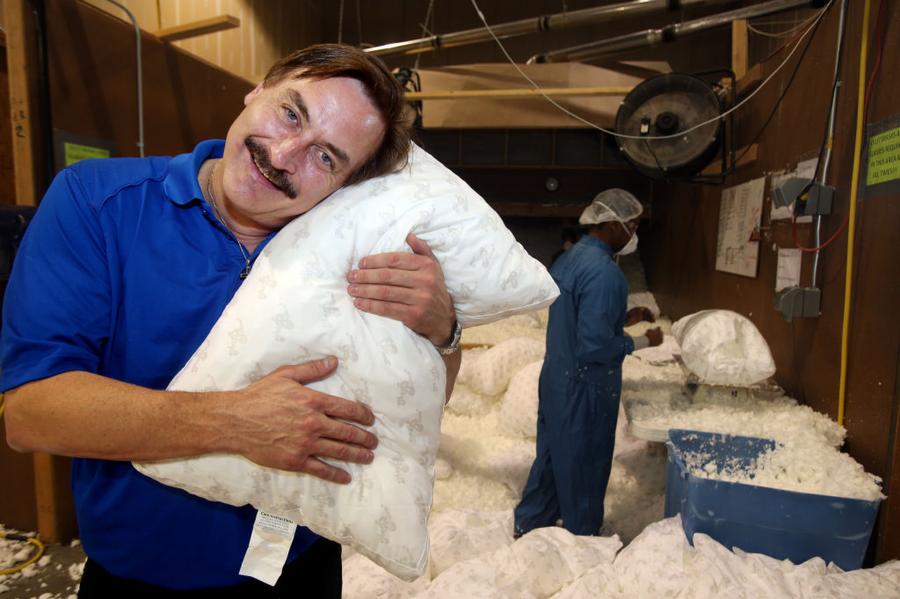 Fast forward to today and sadly all the pillows in the world would not soften Mike's financial implosion…
The Epic Downfall
On October 6, 2023, Mike's lawyers – from a company known as Parker Daniels Kibort and Lewin & Lewin – filed loads of paperwork in Washington D.C. and Minnesota requesting permission to drop him as a client. Based on the filing, the lawyers want to be excused from the case because of lack of payment. Mike has allegedly failed to pay 'millions of dollars' in legal fees to his lawyers.
These lawyers had been representing Mike and My Pillow in defamation lawsuits brought in by voting machine firms Smartmatic and Dominion Voting Systems. Dominion sued Mike for $1.3 billion in damages.
Here is the filing from Mike's soon-to-be-former lawyers:
"On October 2, 2023, Parker Daniels Kibort and Lewin & Lewin were informed by Defendants [Lindell and My Pillow] that they are not able to get caught up with or make any payment on the large amount they owe in arrears nor pay for anywhere near the estimated expense of continuing to defend against the lawsuits going forward, including either the legal fees or litigation costs…"
The law firm also alleged that if it continued to represent Lindell and My Pillow, the situation "could threaten the very existence of the firm."
Mike Lindell learned of this filing on October 5. Later in the day, he featured on Steve Bannon's "War Room" and provided more details on his current situation:
"I can't pay the lawyers. We can't pay. There's no money left to pay them. I don't know where that leaves us."
In another interview with NBC, Mike explained:
"We've lost everything. Every dime. All of it is gone."
Worsening his financial issues has been the severe obliteration of My Pillow as a business. My Pillow had at some point been quite a popular item at stores such as Bed Bath & Beyond and Walmart. Most of the major retailers have since dropped all My Pillow products. The most significant blow was Walmart dropping My Pillow in June 2022.
As a result, Mike has insisted That My Pillow's revenue, which in case you will remember previously surpassed $110 million annually, has now dropped to $5 million per year, a 95% loss.
Another major factor in Mike's current financial challenge is his spending habits. In different interviews in 2022 and 2023, Mike alleged that he spent $25 – $50 million of his wealth attempting to prove that the 2020 election was stolen from Donald Trump.
Elsewhere, he alleged that he was spending $1 million monthly at some point aiming to launch and maintain his social media app Frank Social.
Due to the recent revelations, Mike Lindell's net Worth has been reduced to ZERO. On that one, it could just be a starting point subject to the outcome of his defamation cases.