Kai Cenat is a YouTuber, live streamer, and rapper with a net worth of $9 million. He is best known for his Twitch stream and his YouTube comedy videos. He is famous for partnering with other live streamers like Adin Ross, IShowSpeed, and xQc, and for inviting celebrity guests like rappers 21 Savage and Lil Baby.
In 2023, about a month after he became the most-subscribed-to Twitch streamer of all time, Cenat said that he had been banned from the service. Before being banned he was making around $3 million annually off the platform, without including endorsements. He has already been banned from Twitch five times.
Early Life And Education
Kai Cenat III was born on December 16, 2001, in New York City to a Haitian father and a Trinidadian mother. He has a twin sister, Kaia, an older brother called Devonte, and a younger brother named Kaleel. As a teenager, Cenat attended Frederick Douglass Academy, graduating in 2019. Later, he enrolled at Morrisville State College to study Business Administration.
Nevertheless, because of the challenges that he encountered while trying to balance schoolwork with his social media career, Kai Cenat dropped out of college in 2020.
Kai Cenat Social Media Career
Initially, he aspired to become a comedian. On that note, Kai Cenat posted short-form comedy videos on Instagram as a teenager. Eventually, he joined YouTube in 2018, for which he started creating prank and challenge videos.
After he was discovered by YouTuber Fanum, he decided to join the YouTube group AMP and started featuring in several of its videos. On YouTube, Kai Cenat acquired 3.5 million subscribers and more than 250 million views.
In early 2021, he shifted to Twitch, a video live-streaming service, where he enjoyed his biggest recognition yet posting many gaming streams and reaction content. On that platform, Kai Cenat mostly partnered with other renowned live streamers including Adin Ross, xQc, and IShowSpeed. In 2022, he started featuring celebrity guests on his live streams, including rappers like 21 Savage and Lil Baby, and these appearances gave him his highest viewership to date.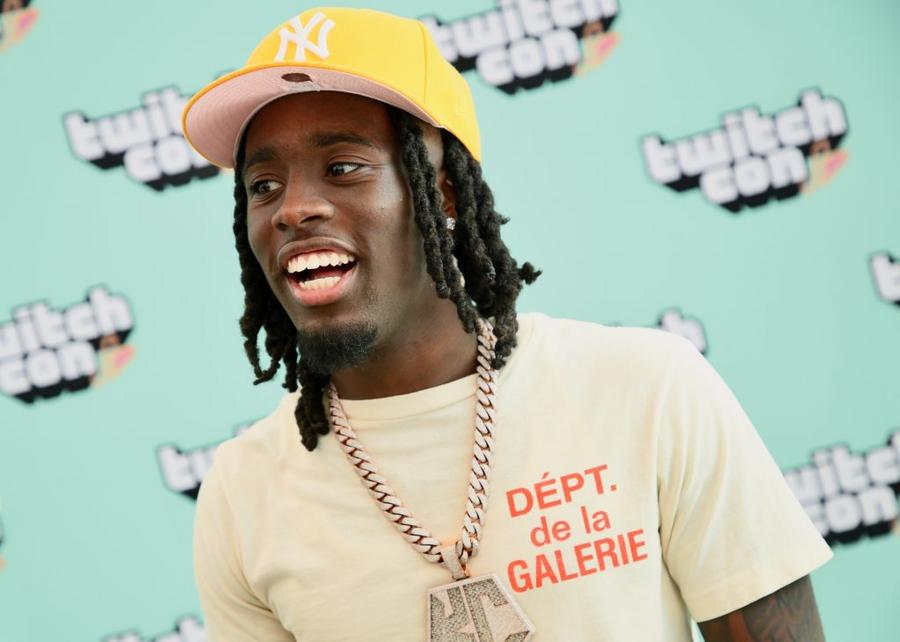 In 2022, Cenat secured the Streamy Award for Streamer of the Year, marking a significant achievement. His triumphant start to 2023 was marked by a month-long subathon in February. By month's end, Cenat soared to become the most-subscribed-to Twitch streamer ever, surpassing the prior record set by Ludwig with over 305,000 subscribers.
Notably, he clinched the Streamer Award for Streamer of the Year once again. Soon after, his career and subathon were spotlighted in a documentary titled "30 Days," released on YouTube.
However, Cenat's streak of accomplishments halted in April 2023, when he received an unexplained ban from Twitch. In the subsequent month, he unveiled plans for a live-streamed venture with IShowSpeed titled "The Kai N' Speed Show," exclusively broadcasting on Rumble.
Music Career
Kai Cenat ventured into music recording in 2022 with the single "Bustdown Rollie Avalanche," which features rapper NLE Choppa. Later, he released the single 'Dogs' with his fellow streamer IShowSpeed. Cenat has also appeared in some music videos by other artists, such as the videos for Polo G's "Distraction," Adot's "Shoot," and Lil Uzi Vert's "Just Wanna Rock."
Controversies
Just like other highly popular online personalities, Cenat has managed to attract lots of controversy. In early 2023, TikToker Jovi Pena accused him of refusing to help her after she was reportedly raped at his New Year's Eve party. Kai Cenat responded by alleging that he never acted earlier since he was trying to contact the police and his lawyers. He also insisted that he was not aware of the alleged rape at the time.
In August 2023, Kai Cenat was detained by New York City police after a giveaway he organized in Union Square grew out of control. He was not charged with a crime, but police were forced to arrest dozens of those in attendance after the massive crowd started throwing bottles and other items at the police.