In 2013, reports emerged that Sting was making $2,000 per day from something they did 30 years ago. The musician ended up earning nearly $2,000 in royalties EVERY SINGLE DAY for decades mainly due to something he did back in 1997. Or is it something Diddy forgot to do in 1997?
As everything turns out, Sting's daily royalty earnings were considerably higher than anyone knew. The new information has come out thanks to Diddy himself.
As you might already know, Sting first gained fame and fortune as the lead singer of the Police. In 1982 Sting and his bandmates co-wrote a small song called 'Every Breath You Take.' The previous statement is not quite accurate and that is where the story begins to get interesting.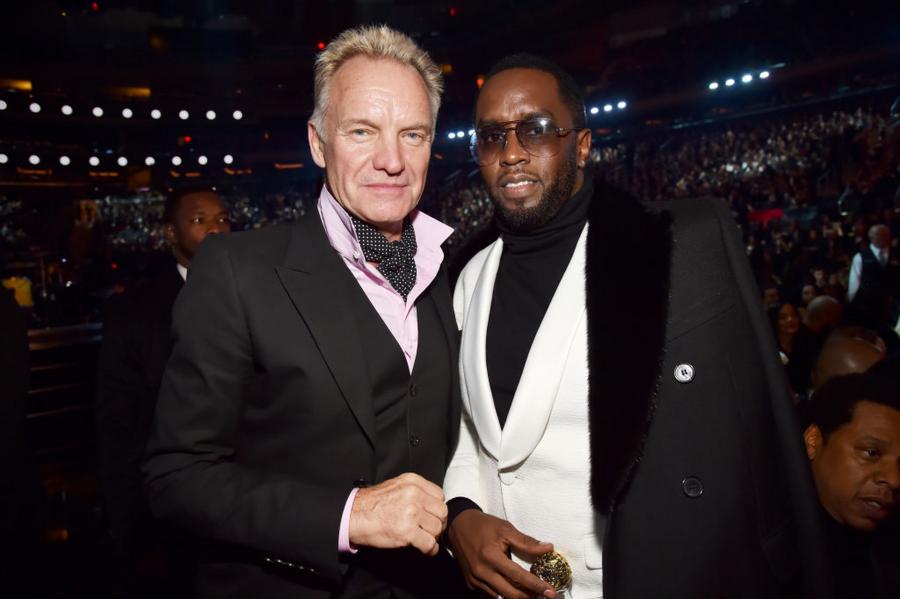 Although all members of the Police band contributed to its composition, the song credit and ownership for "Every Breath You Take" is fully credited to Sting. He wrote the lyrics, Stewart Copeland played the drums, and Andy Summers wrote the famous guitar riff that is playing in your head as you read this.
Years later, Andy Summers said that he came up with the famous riff after he got into a heated argument with Sting telling him "Go and make it your own." Maybe he was tired of fighting or he just did not care, but Andy never requested a share of songwriting credit on "Every Breath You Take."
Being the song' only composer, for the next 40 years Sting earned most of the royalties generated whenever the song was played on the radio, sampled, or included in a commercial or a movie.
Comes In: Puff Daddy
You may also be aware that Diddy – who then was Puff Daddy – sampled "Every Breath You Take" for his 1997 hit song "I'll Be Missing You." That song was a tribute to his late friend the Notorious B.I.G, and it was a major hit.
It would go on to win a Grammy and, more particularly for this publication, was one of the most-played songs on the radio for many years to come and is still among the best-selling singles of all time.
But not great news for everyone since not all who were involved in composing the song got royalties.
It is already clear why Andy and Stewart did not get any royalties from "I'll Be Missing You." It is quite annoying to Andy Summers since when you listen to Diddy's song, there is no Sting's voice and Stewart Copeland's drums are missing. The only musical instrument sampled from "Every Breath You Take" to come up with "I'll Be Missing You," was Andy Summers' guitar riff.
Although his creation underpinned what became a major hit, Andy does not get anything from the Diddy version. Sadly, Diddy also gets nothing because he forgot to do something highly important before he created this track.
As it eventually turned out, no one from Bad Boy Records (Diddy's company) remembered to get permission from Sting to sample "Every Breath You Take" for what turned into "I'll Be Missing You."
If Diddy remembered to ask for permission first, he might have been needed to hand over 25% of I'll Be Missing You's publishing royalties to Sting. By forgetting to ask for permission before that song was released, Sting managed to demand and get 100% of the remix's publishing royalties.
Royalties From I'll Be Missing You
How is it known that Sting was at one time earning $2,000 PER DAY in royalties from "Every Breath You Take"?
In a 2010 interview, Sting's business manager showed that the musician earned an average of $2,000 in royalty income daily from that song alone. This works out to $730,000 annually, for a song at the time of the interview that had been composed 30 years before.
Sting's manager also alleged that this one song had been responsible for 25% of all the lifetime publishing income that Sting earned up to that point, nearly $40 million.
$5,000 Per Day
Recently, a 2018 interview with Sting on "The Breakfast Club" radio show went viral online.
In the clip, Charlamagne Tha God asked Sting directly about the legend of his $2,000 daily royalty earnings coming mostly due to Diddy not asking for permission to sample the song. When asked whether that story is true, Sting replied with just:
"Ya"
When Diddy saw that clip circulating on Twitter, he replied with:
"Nope. 5k a day."
In all Fairness, it is unclear whether Diddy is only being cheeky in this situation. But, it is not a surprise if the royalties generated in 2023 are considerably higher than in 2013. Ten years ago people were still not majorly paying for the music. Today, artists earn royalties each time their song gets streamed on Spotify, used in a TikTok video, or played on YouTube…
In case what Diddy said is true, $5,000 per day would translate to $1.825 million per year. That is a decent income for something Sting did over 40 years ago.
But, there is another twist to this story:
Sting Cashes Out
In February 2022, Sting sold his whole writing and publishing catalog rights to Universal Music Publishing Group for $300 million. That sale included his whole song catalog from his time with The Police and as a solo artist. In other words, if "Every Breath You Take" generates $5,000 daily in royalties currently, these checks now go to Universal Music Group.
If ¼ of all Sting's royalties are related to "Every Breath You Take," it could be said that nearly $75 million of his $300 million catalog sale was attributed to that one song.
Nope. 5K a day. Love to my brother @OfficialSting! 😎 ✊🏿🫶🏿 https://t.co/sHdjd0UZEy

— LOVE (@Diddy) April 5, 2023
That is one top of the tens of millions Sting already earned before February 2022. Hence, it could conservatively be $120 million in royalties generated for Sting by one song. He earned all that thanks to a song he released 40 years ago.