From 1994 up to earlier this week, actor Brad Pitt has called a massive estate in Los Feliz his primary Los Angeles home. Pitt put up what became a compound from what was in the past five adjoining lots that now occupy up to two acres in the Hollywood Hills.
Brad Pitt combined these lots into one large property after making several different real estate purchases over the years and then held onto the compound for nearly 30 years. At the time of publication, the Pitt compound is owned by somebody else. Brad sold the property in an off-market deal for $33 million, according to Dirt.com. That was a record for Los Feliz, but nearly $7 million less than his original off-market asking price.
The buyer was Getty Oil heiress Aileen Getty. Aileen's grandfather J. Paul Getty was once the richest person in the world thanks to his massive Getty Oil empire. In an interesting twist, Dirt.com revealed that Brad Pitt and Aileen swapped properties. Brad only paid $5.5 million for Aileen's mansion in the hills above Los Feliz.
Pitt paid $1.7 million in 1994 for the biggest portion of the estate. In the first instance, the seller was another celebrity: Cassandra Peterson, popularly known as Elvira, Mistress of the Dark. Over the next 15 years, he spent another $3.4 million in four more purchases to bring it to its current massive size, with multiple structures joining the almost 7,000-square-foot main house.
Being an avid architecture enthusiast, Brad Pitt was involved in designing the other structures and redesigning the main house. Hence, the property has also served as something of an architectural playground for him over the many years he has lived there.
One of the structures was a residential home before Brad Pitt changed it into an integration of a guest house and a studio. Other notable features on the property include a movie theater, a garage, particularly for motorcycles, a skate park, a ballroom, and a supposedly massive Koi pond.
He is how Brad's former mansion looked from above in 2006: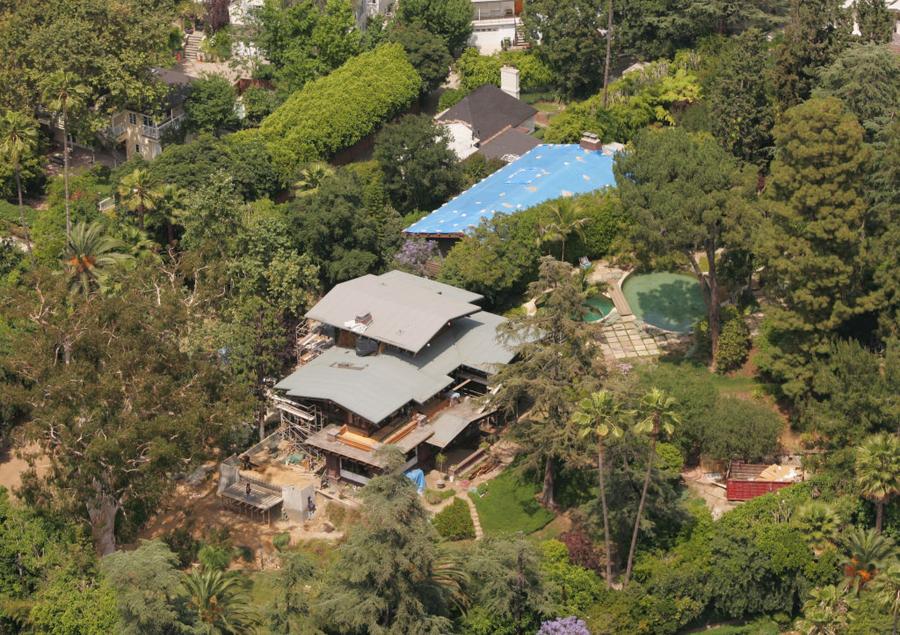 Pitt was allegedly shopping the property around for several weeks before he found a buyer at $39 million. Interestingly, the main house's somehow spooky history never discouraged the buyer from signing on. Here is a comment by the Mistress of the Dark about her time living in the house that dates back to 1910, before Brad Pitt moved in:
"Something weird was going on. Footsteps above my head on the ceiling. Clouds of smoke forming into what looked like a human and then disappearing. A black shadow floating on the bottom of the pool that wouldn't go away. After a priest performed an exorcism in the home and a Native American cleansed the home with sage, it seemed to all go away."
Whether haunted or not, this home was a fitting one for Pitt and his family. Before they split in 2016, this is where he lived with his ex-wife Angelina Jolie and their six children.
Apart from his $5.5 million new LA mansion, Brad Pitt has other properties around the world. In 2000, he acquired a beach house in Goleta town, California for $4 million (this property is located north of Santa Barbara).
He paid $3.7 million in 2015 for a villa located on the Spanish island of Majorca. Brad Pitt also owns 50% of the French winery Chateau Miraval and recently in July 2022, he paid $40 million for a clifftop mansion overlooking the ocean in Carmel Highlands, California.