Tucker Carlson is an American political commentator, TV personality, and author. His net worth is estimated to be $30 million. Tucker Carlson was a CNN commentator from 2000 to 2005. Between 2005 and 2008, he hosted a show on MSNBC and then went to work at Fox News in 2009
Carlson started hosting a nightly talk show known as "Tucker Carlson Tonight" in 2016. Away from the television screens, Tucker Carlson is the co-founder of the site The Daily Caller. He is also a published author and columnist.
Born in San Francisco, Tucker Carlson was mainly raised in Southern California. His father was an LA news anchor who doubled up as the ambassador to the Seychelles named Richard Warner Carlson. Tucker's mother left their family when he was only six. By the time he was 10 years old, Richard married Patricia Caroline Swanson. Patricia was wealthy due to her grandfather Carl A. Swanson, who launched the Swanson frozen foods business empire.
Tucker Carlson attended Trinity College in Hartford, Connecticut where he graduated with a degree in history in 1991.
Tucker Carlson Success
Carlson's work as a journalist started in print at publications like Policy Review and the Arkansas Democrat-Gazette. From there, he got jobs and gigs as a columnist for periodicals like New York Magazine and Reader's Digest. Furthermore, he appeared in magazines and newspapers like the Weekly Standard, The Daily Beast, Esquire, the New York Times Magazine, and The New Republic.
Tucker started his career in TV as one of the hosts of the CNN panel discussion program Crossfire. ON the show, he took up the position of the right-wing point of view. His most famous work in that period was during a contentious interview with comedian Jon Steward, which many say resulted in Crossfire's cancellation weeks later. Since then, Tucker Carlson has found different jobs on both MSNBC and Fox News.
For many years, he was famous for his sometimes-idiosyncratic conservative views and his trademark bow-tie. Wearing a bow-tie was even known as "the Tucker Carlson look".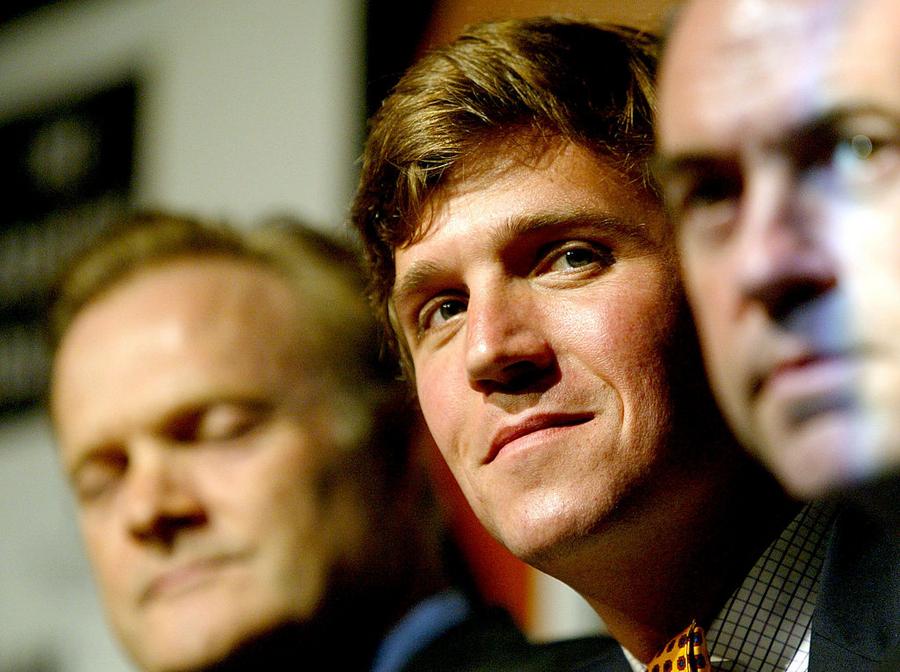 In 2017, Tucker took up the slot that Bill O'Reilly left vacant after he was sacked from Fox News. Later, Tucker allegedly signed a $10 million book deal. His show is constantly the highest-rated cable news program within its time slot. Having an average of 3.4 million viewers, he has more viewers than his MSNBC and CNN counterparts combined.
Tucker Carlson's yearly salary at Fox is $6 million. That may seem like a lot but the man that he replaced, Bill O'Reilly, was earning $20 million annually from Fox and he is currently outperforming O'Reilly.
In 2010, Carlson and Neil Patel co-founded DailyCaller.com, which is a right-wing news and opinion property. They designed it as a conservative version of The Huffington Post. In June 2020, Carlson sold his 33% stake to Patel for undisclosed amounts.
Personal Life
Tucker has been married to Susan Andrews since 1991. They met at the Chapel of St. George School and later married at the same place in a boarding high school in Middletown, Rhode Island. They have four children.
For ten years, Tucker and his brother Buckley have been battling in court over their estranged mother's estate. Their mother was Lisa Vaughn and was the beneficiary of an oil and gas partnership in the rural areas of central California that covered up to 70,000 acres of land.
At some point, the siblings thought that the royalty rights were worth about $125,000, but, they later learned that their rights were worth more than $2.5 million. They sued their late mother's estate that left each of them with a nominal amount of $1 million each. The lawsuit is still ongoing.
Real Estate
In 2011, Susan and Tucker traded down from $4 million home to a smaller $2 million home in the Washington DC area of Kent. They sold the house for $2.04 million in November 2017. In July 2017, they acquired a new house in the same area for $3.895 million.
The couple put the home up for sale in July 2020 for $3.95 million and sold it within a month at asking. In early 2020 Tucker Carlson paid $2.9 million for a home on Gasparilla Island in Florida.