Michael Kors is an American fashion designer who has a net worth of $600 million in 2023. He is the chief creative director and honorary chairman of his brand, Michael Kors.
Company Sale
In 2003 Michael Kors sold a controlling interest in his firm to investors Lawrence Stroll and Silas Chou for nearly $100 million. Today he owns about 5% of his namesake firm which has a market cap of around $10 billion. In 2014, Michael Kors was a paper billionaire due to the soaring stock price of his now-publicly traded KORS.
At the time, the firm was doing more than $3 billion in yearly revenue and almost $700 million in profit. Sadly, over the next several years the stock lost 50% of its value, and thus dropped Michael from the elite billionaire's club.
Currently, he serves as the Honorary Chairman and Chief Creative Officer for Michael Kors Holdings. The firm acquired Jimmy Choo in 2017 for almost $1 billion. The firm purchased Versace for $2.1 billion in September 2018. After closing the Versace deal, Michael Kors Holdings will be renamed Capri Holdings.
Early Life And Career
Michael Kors was born Karl Anderson, Jr. in Long Island, New York on August 9, 1959. He was exposed to the fashion apparel sector as a child since his mother, Joan Hamburger, was a model. Joan married Bill Kors when Michael was five and subsequently, his surname changed to Kors.
His mother told him that he could change his first name too, so he renamed himself Michael David Koors. While in junior high, Kors took acting classes but abandoned them when he decided to focus on becoming a fashion designer. Michael Kors graduated from John F. Kennedy High School in Bellmore, New York.
Michael started designing and selling clothes as a teen out of his parents' basement. In 1977, Michael Kors enrolled at the Fashion Institute of Technology in New York City, but he dropped out after nine months.
Michael Kors Fashion Career
After he dropped out of FIT, Kors took a job at Lothar's, which was a boutique store across the street from Bergdorf Goodman in Midtown Manhattan. He started working as a salesperson but rapidly got promoted to become a designer and a visual display head for the store. The fashion director of Bergdorf's, Dawn Mello, discovered Michael Kors and asked him to show his collection to Bergdorf Goodman's buyers.
He launched his Michael Kors women's fashion line at stores including Neiman Marcus, Lord & Taylor, Goodman, Bloomingdale's, and Saks Fifth Avenue in 1981. The firm launched the label KORS as a licensee in 1990. In 1993, he filed for Chapter 11 bankruptcy but managed to claw his way back. But, he had to close the licensing partner for his label, compelling him to suspend production on his KORS line.
In 1997, Michael Kors launched a lower-priced, ready-to-wear line for Celine, a French store. He left the Celine line several years later and in 2002 Kors unveiled a menswear line. In 2004, he introduced MICHAEL Michael Kors line, joining hands with the original Michael Kors Collection label.
The line featured women's ready-to-wear apparel and expanded to handbags and shoes. By the end of 2016, Kors had more than 770 Lifestyle stores globally and Collection boutiques in Palm Beach, Chicago, New York, Beverly Hills, and Southampton. In early 2019, Michael Kors Holdings Limited officially altered its name to Capri Holdings Limited. Jimmy Choo, Michael Kors, and Versace are the three founder-led brands under Capri Holdings Limited.
Outside of designing clothes, Kors was a judge on "Project Runway" for five seasons. He confirmed that he would not be returning in 2012 and was replaced by designer Zac Posen. Kors returned to Project Runway in 2016 shortly as a guest judge for the season 15 finale.
Michael Kors has dressed thousands of super-famous women including Michelle Obama, Tiffany Haddish, Lupita Nyong'o, Kate Middleton, Reese Witherspoon, Nicole Kidman, Heidi Klum, Hillary Clinton, Catherine Zeta-Jones, Angelina Jolie, Dakota Johnson, Viola Davis, Kate Hudson, Alicia Keys, Olivia Wilde, and many others.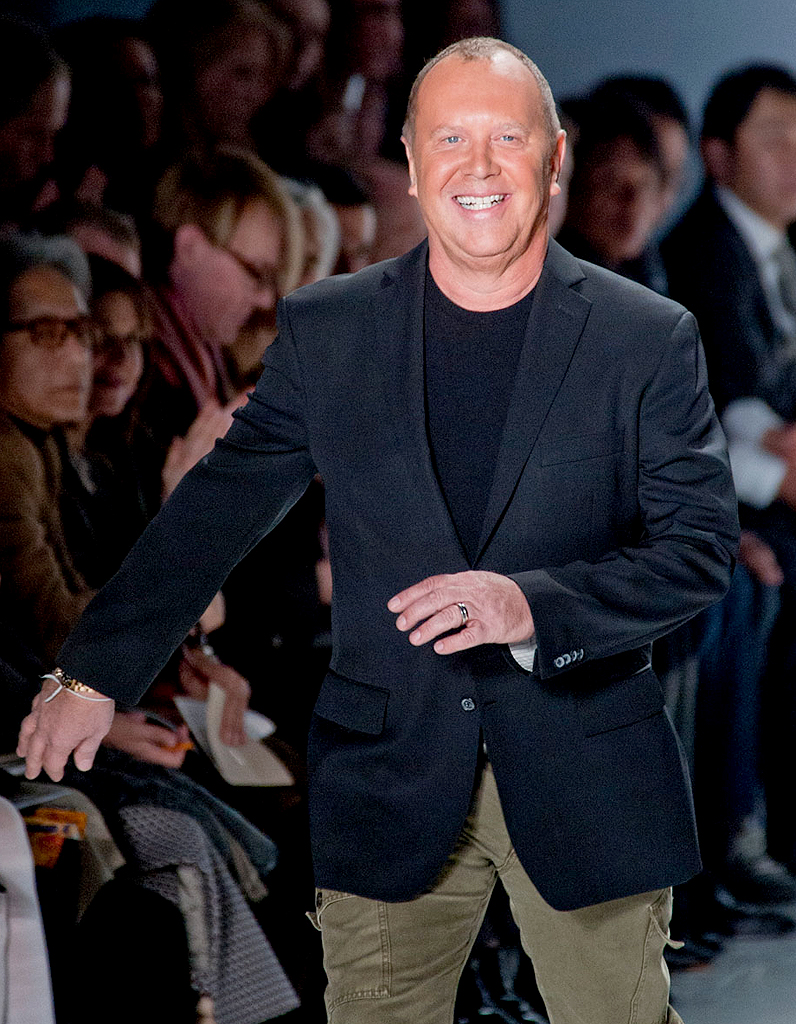 Ad Campaigns
Kors aims for his advertising to reflect a "jet-set lifestyle" that his fans already recognize. The Kors Collection campaigns have been shot by photographers Inez and Vinoodh, together with Mario Testino. Notably, ads over the years have featured model Carmen Kass on a safari in Africa relaxing on a yacht, and photography of Bella Hadid on different adventures globally.
Campaigns have also featured models Rianne Van Rompaey, Ugbad Abdi, and Binx Walton.
Personal Life
Michael Kors married his long-term partner Lance Le Pere in The Hamptons on August 16, 2011. They met in 1990 when La Pere became an intern for Kors' company. The couple lives in a penthouse apartment in Greenwich Village, New York.