Melania Trump is a Slovenian model and former first lady of the United States. She has a net worth of $50 million. Melania is best known for being the third wide of Donald Trump. They got married in 2005.
Notably, she played herself in the 2001 film "Zoolander". Later, she made special appearances on her husband's NBC reality show "The Apprentice" from 2004 to 2015. Melania Trump modeled in Milan and Paris before relocating to America in 1996 to pursue modeling in New York City. She managed to appear on the covers of several magazines, including "InStyle," "Vanity Fair," "Vogue," "Harper's Bazaar," and "Glamour."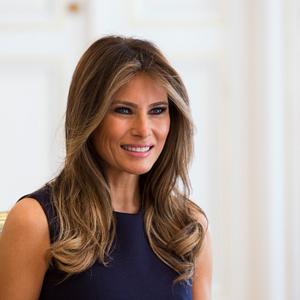 In 2016, she was criticized after a speech she gave at the Republican National Convention since the speech seems to have plagiarized some of Michelle Obama's 2008 Democratic Convention speech.
Melania Trump was born Melanija Knavs (Germanized as Melania Knauss) on April 26, 1970, in Novo Mesto, SR Slovenia. Her mother, Amalija, was a patternmaker who was working for a children's clothing manufacturer. On the other hand, her father Viktor worked as a manager for a car and motorcycle dealership.
Melania would mostly participate in fashion shows for her mother's boss, Jutranjka. She grew up in Sevnica with her sister Ines. She also has a half-brother whom she never met. Although Viktor was a member of the League of Communists of Slovenia that practiced state atheism, Ines and Melania were baptized as Catholics.
She went to school at Ljubljana's Secondary School of Design and Photography and she enrolled at the University of Ljubljan to study design and architecture but dropped out after a year.
Melania Trump Career
Melania started her modeling activities at the age of 5, and by 16, she started posing for fashion photographer Stane Jerko. She has appeared in many commercials. She signed with a Milan modeling agency when she was 18. Notably, Melania Trump was a runner-up in "Jana Magazine's" 1992 "Look of the Year" competition.
Three years later, she met the co-owner of Metropolitan Models, Paolo Zampolli, and he offered her representation in case she decided to go to the United States. After moving to Manhattan in 1996, she lived in a Zeckendorf Towers apartment with popular photographer Matthew Atanian. The living arrangement was made by Zampoli.
In January 1996, the French men's magazine "Max" featured some sexually explicit photos of Melania Trump with another model. She then appeared on the cover of the January 2000 issue of "GQ" wearing only diamond jewelry.
Trump launched a jewelry collection in 2010 with QVC called Melania Timepieces & Jewelry. She then created the Melania Skin Care Collection. In 2017, the firms that manufactured the products cut ties with her. A 2016 financial filing showed that her business ventures made $15,000 – $50,000 in royalties that year.
From January 2017 up to January 2021, she was the first lady of the United States. While serving as First Lady, she engaged in many state activities and she was passionate about immigration reforms in the United States. She did not like the separation of families by the Trump administration's "Zero Tolerance" policy. She also focused on the prevention of online bullying with her "Be Best" campaign.
Personal Life
Melania met Donald Trump at a party in 1998 and married him on January 22, 2005. She wore a $200,000 Christian Dior gown at her wedding. They welcomed their son Barron on March 20, 2006. He was baptized at Bethesda-by-the-Sea Episcopal Church. That was the site of Donald and Melania Trump's nuptials.
She has been a permanent US resident since 2001, and officially became an American citizen in 2006. In 2018, she was treated for a benign kidney condition, undergoing an embolization at Walter Reed National Military Medical Center.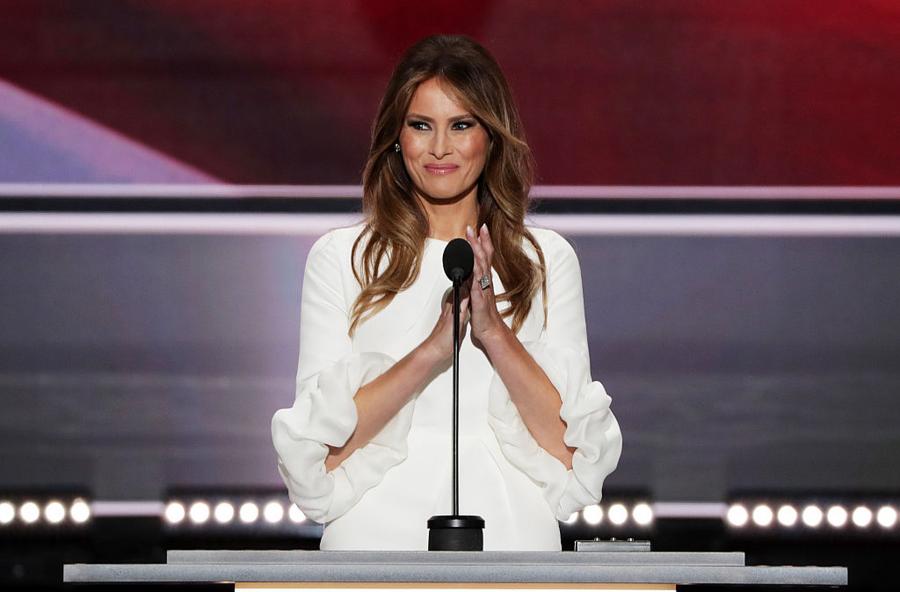 In February 2017, Trump filed a $150 million lawsuit against the "Daily Mail," a British tabloid. The tabloid published an article that accused Melania of working as an escort during her time as a model. She alleged that the article caused her to miss out on "multimillion-dollar business relationships."
Nonetheless, she later amended the lawsuit to focus primarily on her emotional distress instead. In April 2017, the "Daily Mail" retracted the statements that were made in the article. The lawsuit was settled for $2.9 million.
Real Estate
In January 2016, Melania paid $1.5 million for a 1-bedroom apartment on the 33rd floor of Trump Tower. When she was buying the apartment, the Trumps already owned a large penthouse that took up the 66th, 67th, and 68th floors of the building, and there has been some speculation that Melania acquired the 1,052-square-foot apartment to use as a library.