Offset is an American rapper, singer, and songwriter who currently has a net worth of $26 million. He is famously known for being a member of the hip hop trio Migos along with other rappers Quavo and Takeoff.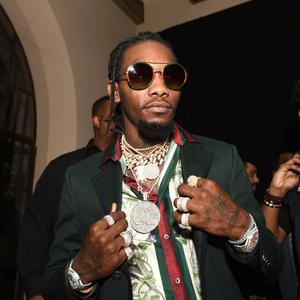 Kiari Kendrell Cephus is mostly known by his stage name Offset. He was born in Lawrenceville, Georgia, on December 14, 1991. He enjoyed a middle-class upbringing in Gwinnett County, Georgia, together with his bandmates Quavo and Takeoff.
They are all directly related; Quavo is Offset's cousin, and Takeoff is Offset's cousin once-removed (Quavo is Takeoff's uncle). All three of them grew up listening to different music performed by artists like Hot Boys, Outkast, Master P, Lil Wayne, and Gucci Mane.
Offset Career
Offset, Quavo, and Takeoff launched the hip-hop group Migos in 2008. They called themselves Polo Club at first. After they released their first mixtape, "Juug Season", in 2011, they first gained notoriety in 2013 for their single "Versace". Migos also released their debut studio album "Yung Rich Nation" in 2015.
It reached number 3 on the US Rap chart, No. 5 on the United States R&B/Hip-Hop chart, and No. 17 on the Billboard 200 chart. Their next big hit came in 2017 with the single "Bad and Boujee" (featuring Lil Uzi Vert), which became an Internet phenomenon.
Particularly, Offset's lyrics "rain drop, drop top" resulted in the creation of many memes. In 2017, Migos also unleashed their second studio album, "Culture", which came at number 1 on the United States Billboard 200 chart. It was certified platinum by the RIAA. They followed that up with the album "Culture II" in 2018.
Apart from his work with Migos, Offset unleashed a collaborative album with 21 Savage and Metro Boomin, "Without Warning", in 2017. This album comprises appearances from artists like Quavo and Travis Scott, and it peaked at number 4 on the United States Billboard 200 chart.
In February 2019, Offset released his first solo album, "Father of 4". It was published by Motown and Quality Control Music and includes artists like Cardi B, CeeLo Green, J. Cole, Big Rube, Gucci Mane, and Gunna.
Notably, "Father of 4" debuted at number 4 on the US Billboard 200, and it was generally well received by both critics and the public. Offset is the last member of Migos to release a solo album; Takeoff and Quavo both unveiled their debut solo albums in 2018.
Business Ventures
Apart from his music work, Offset has appeared in several advertising campaigns for fashion designers and many brands like Bryce Barnes, Gosha Rubchinskiy, and Lavati. He was also featured in an episode on the 'Atlanta' television series with other Migos members.
In 2020, he debuted a new show with Quibi which was called "SKRRT with Offset". The show follows him as he drives around with other celebrities in fancy, and expensive cars.
In August 2019, Offset was introduced as a new investor in the Esports organization FaZe Clan. However, the nature and amount of the investment were not revealed. Since then, he has appeared in two FaZe Clan videos on YouTube.
Real Estate And Career Earnings
In December 2019, it was announced that Cardi B and Offset had acquired a home outside of Atlanta for $5.5 million. Their 22,000 square-foot home consists of 11 bathrooms, 5 bedrooms, and it sits on about six acres. In 2017, the house was listed for $10 million.
From September 2017 to September 2018, Migos earned a cumulative $25 million. It is believed that Offset's cut of those gross earnings was nearly $8 million. That amount was earned mainly due to the grueling tour schedule that saw the group perform a staggering 93 shows within 12 months. They have also grown to become one of the most popular streaming acts globally with 4 billion streams in the same year.
They earned $36 million between September 2018 and September 2019.