Jojo Siwa has many titles. The American dancer is also a singer, actress, model, and reality TV personality. At the time of publication, Siwa has a net worth of around $20 million. After exploding to fame on the show "Abby's Ultimate Dance Competition," she started appearing on "Dance Moms."
But, reality television helped put her on the map. Siwa's real success came after she managed to establish herself on YouTube. Most of her videos have hundreds of millions of views, and she has nearly 12 million subscribers as of 2021. She was named one of the most influential people globally.
Her story began some 18 years ago. Joelle Joanie Siwa was born on May 19, 2003, in Omaha, Nebraska. After her music videos "Boomerang" and "I Can Make U Dance" published on YouTube pushed her to prominence, she started performing to sold-arenas after a tour in 2018.
That tour originally went through 52 cities in Canada and the United States and was later on expanded to include Australia and the United Kingdom.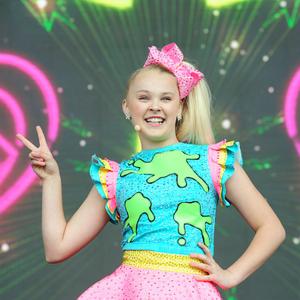 JoJo Siwa Bow Tie Sales
Most of Jojo Siwa's fans say that her net worth must be considerably more than the current estimates because she is believed to have allegedly sold 40 million bow ribbons. Although that number is yet to be authenticated independently or reported in any business journal, she is surely earning a lot of money from the product sales.
But even if the 40 million number is correct, it does not mean that Jojo Siwa is making hundreds of millions of dollars off these sales. In the case of any celebrity product line, the person gets paid after a certain sale milestone is surpassed after production and marketing costs are recovered. In case Jojo managed to sell 40 million ribbons, that milestone must have already been reached and exceeded.
That means Jojo Siwa is now earning some percentage of the profits made from these sales. With the industry average price of a bow being $9, each sale can generate $2.5 in net profit. Based on some other similar celebrity endorsement deals that are public domain, Jojo could be lucky if she gets 20% of the profits after all costs are recouped.
It means that she would hypothetically earn $0.54 per sale, pre-tax. If she sold the 40 million pieces, she might have had to sell 10 million to regain initial costs. That would leave her with earnings of $16 million pre-tax. The figure may translate to $8 million after-tax.
Based on those calculations, Jojo is earning some considerable amounts of cash from product sales only. Her net worth is the amount of money and assets she has after-tax. Thus, anyone who has a net worth of $14 million needed to have earned $25-30 million pre-tax and before different other fees are applied. If Jojo manages to maintain such levels of popularity that she enjoys. Currently, her net worth will surge to above $50 million in the coming years.
Real Estate
Jojo paid $3.5 million for a home in February 2020. The home is located in the Los Angeles suburb of Tarzana, California. She was almost 17 at the time but had already made more money than most people make in their lifetime. Jojo Siwa's new property was then revealed on her YouTube channel and then her loyal fans were given the grand tour.
The Mediterranean-style residence has 6,000 square feet of living space, which provides a lot of space for Jojo's entire family. A gourmet kitchen, fireplaces, French doors, marble floors, and many other indoor features enable the young YouTuber to live comfortably. Outside the house, there is a sports court and a swimming pool.