Joey Logano is an American stock car racing driver who has a net worth of $24 million. Logano drives the No. 22 Mustang full-time in the NASCAR Cup Series sponsored by Team Penske. He also drives the No. 54 Ford F-150 part-time in the NASCAR Camping World Truck Series sponsored by David Gilliland Racing.
Joey Logano is known for becoming the youngest Nationwide Series Cup winner (at only 18 years old). He also has the record as the youngest Sprint Cup Series winner (at barely 19 years old).
Early Life
Joseph Thomas Logano was born on May 24, 1990, in Middletown, Connecticut. He is the son of Thomas J. and Deborah B. Logano. As a child, Joey Logano grew up playing ice hockey and racing. His career in Racing started in the 90s when he was still in elementary school.
As a six-year-old, Joey was a quarter midget racer and he managed to win the Eastern Grand National Championship in the Jr. Stock Car Division. Notably, he also won the Lt. Mod Division Championship in 1999, the Jr. Honda Division Championship in 1998, and three New England Regional Championships in the Lt. Mod, Sr. Stock, and Lt. B divisions later in 1999.
NASCAR
Joey Logano's first major NASCAR wine came in the Meijer 300 at Kentucky Speedway in only his third start in the 2008 Nationwide Series. Later, he was awarded the Sprint Cup Rookie of the Year Award in 2009 after he became the youngest winner ever of any of NASCAR's top racing series.
Throughout the years, Joey Logano continued to confirm that he is a dominant force in the Nationwide Series as well. He achieved a record-setting 2012 season that saw him manage to lead all Nationwide Series drivers with nine wins, six poles, and 1,065 laps led when competing in 22 of 33 races.
Logano previously drove the No. 20 Toyota Camry for Joe Gibbs Racing and won two races, landed 16 top-five finishes, and 41 top-tens between 2009 and 2012. He is the first driver born in the 1990s who has competed in NASCAR's three top divisions. In 2015, he became the second-youngest Daytona 500 winner. Interestingly, he is also the youngest driver ever to win in both the Cup and Xfinity Series.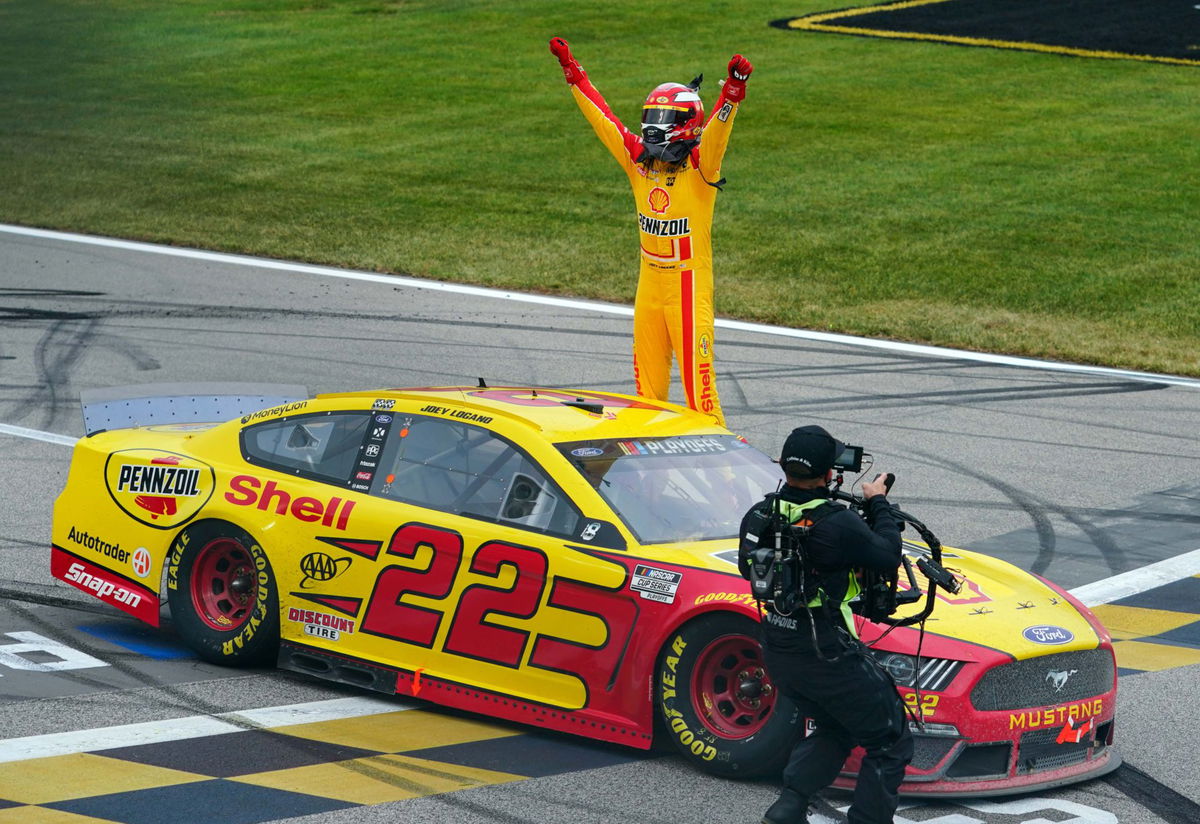 Joey Logano Career Earnings
Between June 2018 and June 2019, Joey Logano earned $11 million. Most of those earnings, about $9.5 million, came from salary/winnings from races. The remainder came from different endorsements. It made him the 5th highest-paid driver in NASCAR.
During his racing career, Joey Logano has earned over $43.6 million in salary alone. Moreover, he has earned at least $47.5 million in endorsements from sponsors like Pennzoil, Shell, Dollar General, and Home Depot.
Personal Life
Joey Logano married his childhood sweetheart, Brittany Baca, on December 13, 2014. As of 2023, the couple has three children together: a daughter, Emilia Love, and two sons, Hudson Joseph and Jameson Jett.
Logano was diagnosed with Alopecia Areata in September 2019, an autoimmune disorder that attacks the hair follicles but does not propose any health risks or physical effects.
In March 2020, the Joey Logano Foundation partnered with a restaurant in Charlotte, North Carolina, Bobbee O's BBQ, to offer free meals to children during the pandemic.
Joey Logano has made many cameo appearances on television shows like "American Idol," "Man v. Food Nation," and Disney XD's "Lab Rats."