Bruce Arians is an American professional football coach who is estimated to have a net worth of $20 million. For more than 20 years, he has bounced around as a coach. But in recent years, he is known for being the head coach of the Tampa Bay Buccaneers and the Arizona Cardinals.
Born in Paterson, New Jersey in October 1952, Bruce Arians played college football for Virginia Tech and was the starting quarterback as a senior. Later, Arians served as a graduate assistant at Virginia Tech between 1975 and 1977. From 1978 to 1980 he was the running backs and wide receivers coach for Mississippi State from 1978.
Arians was a running backs coach at Alabama between 1981 and 1982. His first head coaching job came at Temple from 1983 to 1988 and later he made his NFL coaching debut as running backs coach for the Kansas City Chiefs in 1989.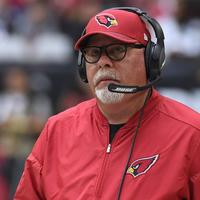 He coached for the Chiefs up to 1992. Bruce Arians returned to college football as offensive coordinator at Mississippi State between 1993 and 1995. In 1996 he returned to the NFL as tight ends coach for the New Orleans Saints and served as offensive coordinator at Alabama in 1997.
Bruce Arians Was quarterbacks coach for the Indianapolis Colts from 1998 to 2000 and then offensive coordinator for the Cleveland Browns from 2001 to 2003. He then joined the Pittsburgh Steelers where he became a wide receivers coach between 2004 and 2006 and an offensive coordinator from 2007 to 2011.
In 2012, Bruce Arians joined the Indianapolis Colts as offensive coordinator and served as Interim head coach. He then became the head coach of the Arizona Cardinals in 2013. He coached the Cardinals team up to 2017. He took a break from work in 2018.
In 2019 he became the head coach of the Tampa Bay Buccaneers. After signing with the Buccaneers, Bruce Arians inked a four-year, $20 million contract. That works out to $5 million per season.