Adam Scott is an Australian celebrated professional golfer. He has a net worth of $50 million. He plays mainly in the PGA and achieved a world ranking of number one in 2014. During his career, Adam Scott has won 31 professional tournaments. Maybe his most notable victory was at the 2013 Master's Tournament. It remains his only major championship. Furthermore, Adam is the only Australian to have won a Masters event.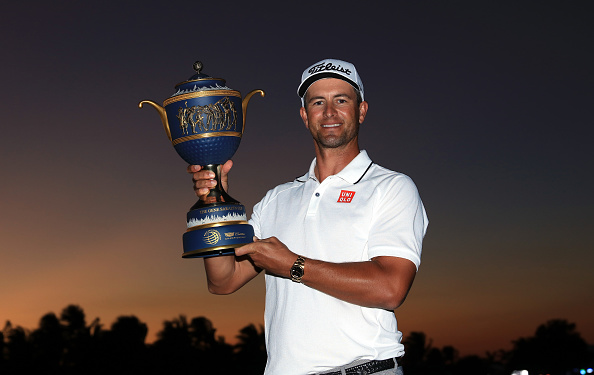 Apart from this achievement, Adam Scott has claimed victory at the 2011 WGC-Bridgestone Invitational, the 2004 Players Championship, and the 2016 WGC-Cadillac Championship. He also narrowly missed out on a win at the 2012 Open Championship. During this competition, he lost by a single stroke to Ernie Els after leading by four strokes with four holes to play.
At the time of publication, Adam has earned over $57 million in purses alone. This amount does not include the tens of millions he has earned from endorsements. In February 2020 Adam earned a $9.3 million purse by winning the Genesis Open at the Riviera Country Club in the Pacific Palisades. He was the world's #1 golfer for a time in the middle of 2014.
Adam Derek Scott was born on July 16, 1980, in Adelaide, Australia. When he was nine, he relocated with his family to Sunshine Coast, Queensland. The family later relocated once more in 1993, and this time they settled on the Gold Coast by the time Adam was 12.
During his high school years, he honed his golf skills as part of his normal academic duties and became part of the Golf Australia National Squad. After he graduated from secondary school, Scott attended the University of Nevada in Las Vegas.
Adam Scott Career
Scott went pro midway through the 2000 season. Within eight starts as a pro, he had earned his undisputed card for the 2001 European Tour. At the time, he finished in sixth place at the Linde German Masters. Another major victory during these early years came at the Alfred Dunhill Championship in Johannesburg.
That was the first professional title, and he wrapped up the season with several other top-3 finishes. In 2003 he got his first victory on the PGA Tour at the inaugural Deutsche Bank Championship. In the next year, he followed up with a victory at the Players Championship. That win was not easy, and he nearly threw it away after finding the water hazard.
Nevertheless, he wrestled back with a 40-yard up and down, including a 10-footer for a bogey. That was enough to win by a single shot. In doing that, he became the youngest winner of The Players Championship at the age of 23. That record was later beaten by Kim Si-woo.
In 2005, he won the Nissan Open and the Singapore Open but finished less in the European Tour from 2006 onwards. After focusing on the PGA Tour, he eventually won the Tour Championship by three strokes. He later followed up with another win on the PGA Tour in 2007, where he claimed victory at the Shell Houston Open.
2008 was a challenging season for Adam Scott. He struggled with injuries and illnesses. Nonetheless, he managed to win the Qatar Masters and the EDS Byron Nelson Championship. But, he has a complete "off" year during 2009 which made him drop out of the top 50 in the world rankings and finished outside of the top 100 on the PGA Tour money list. He got a consolation from a win at the Australian Open.
More wins came in the next few years where he even managed to finish runner-up at the Open Championship in 2012. In 2014, he managed to get the number-one ranking. He held that prestigious position from May 19 up to August 2014, a total of 11 weeks.
In 2020, he won the Genesis Invitational at the Riviera Country Club in Pacific Palisades. That victory marked his first PGA Tour win after many years of dismal performances.
Career Earnings And Real Estate
At the time of publication, Adam Scott has earned over $57 million in purses alone. This amount does not include tens of millions in extra earnings from different brand endorsements over the years. For tax purposes, Adam Scott is an official resident of Switzerland.
In 2013, he accepted a massive loss on an apartment in Australia. He originally acquired the 2-level apartment for $4.4 million in 2004. He tried to sell it since 2010 but had to wait until 2013 when he accepted a bid of $2.4 million only. That translates to a loss of over 55%.
He acquired several other apartments in the area and then offloaded a second one for $5.9 million in 2007. In 2008, it was reported that Adam Scott was selling his home in Abu Dhabi. The home was built in 2008 and Scott acquired it before it was built. He had planned to use the home as a base while competing on the European Tour, but that did not happen as planned.
He allegedly spent very minimal time in this home. It floated in the market with a price tag of $6.2 million. Its highlights include 10,000 square feet of living space, a large pool, and exceptional views of the Saadiyat Beach Golf Club, together with the ocean.