Volodymyr Zelenskyy is a former comedian and actor who is currently the president of Ukraine. He has a net worth of $1.5 million. He became the president of Ukraine in 2019. Based on his official financial disclosure released in 2018, it was a time when Zelenskyy controlled assets worth around 37 million hryvnias.
During the disclosure, the amount was worth around $1.5 million and there are times when the amount has been closer to $1.2 million. Before he joined politics, Volodymyr Zelenskyy was an actor who starred as the fictional Ukrainian president on the "Servant of the People," a popular television series that was produced by his production company Kvartal 95.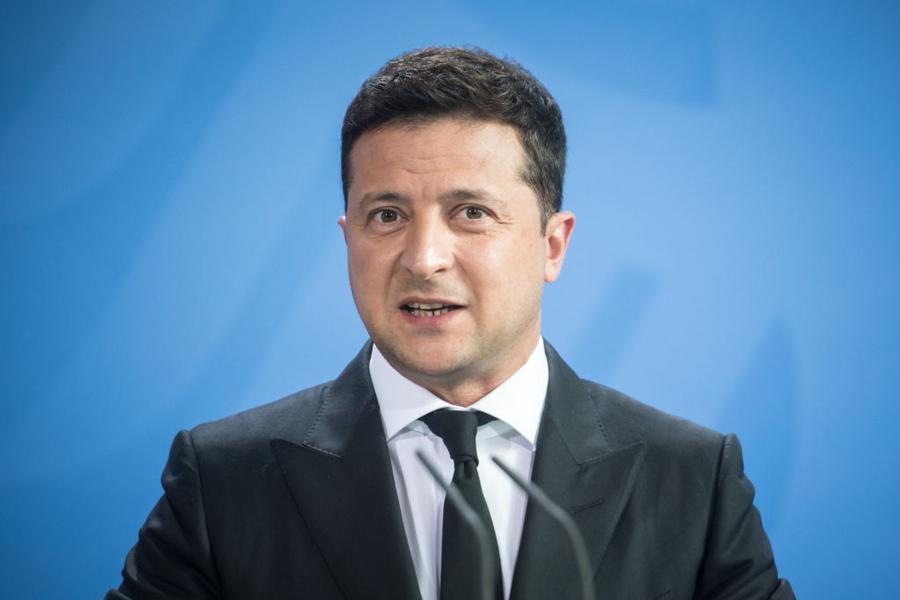 Zelenskyy has also featured in many films, including the "Love in the Big City" franchise. Last year, Volodymyr Zelenskyy together with his administration faced growing geopolitical tensions with Russia, culminating in the Russian invasion of his nation in February 2022.
While serving as the president of Ukraine, Volodymyr Zelenskyy earns a monthly salary of 28,000 Hryvnias. That amount translates to US$930 per month, $11,200 per year.
Volodymyr Zelenskyy Education And Early Life
Volodymyr Zelenskyy was born on January 25, 1978, in Kryvyi Rih, Soviet Ukraine. His parents Oleksandr and Rymma are Jewish. While growing up, he lived for a while in the Mongolian city of Erdenet where his father worked. As a teenager, Zelenskyy passed the Test of English as a Foreign Language. In that context, he earned an education grant to study in Israel.
Nonetheless, his father banned him from going. He proceeded to study for his law degree from the Kryvyi Rih Institute of Economics. At the age of 17, Volodymyr Zelenskyy joined the KVN comedy competition and was then invited to become part of the incredible team Zaporizhia-Kryvyi Rih-Transit. As part of this team, he won the KVN Major League in 1997.
In the same year, he launched and managed the Kvartal 95 team that evolved to become a successful comedy group. Between 1998 and 2003, Kvartal 95 performed in the KVN Major League. Moreover, the team toured extensively all over the post-Soviet nations. Eventually, Zelenskyy started producing television shows via his company.
Acting Career
In 2009, Zelenskyy appeared in the romantic comedy film "Love in the Big City"; in 2010, he starred in the sequel "Love in the Big City 2." Later on he appeared in the comedies "Office Romance. Our Time" and "Rzhevsky Versus Napoleon," and then in "Love in Vegas," which was the third film in the "Love in the Big City" franchise.
Among his other major roles, Volodymyr Zelenskyy starred in the "8 First Dates" romantic comedy and its sequels. He landed one of his most popular roles in 2015 when he started starring on the satirical television series "Servant of the People" as Vasyl Petrovych Holoborodko, a high school history teacher. The teacher is elected president of Ukraine when a video of him inveighing against Ukrainian governmental corruption explodes and goes viral. Zelenskyy was also featured on the comedy series "Svaty" which was banned in his country for two years.
Presidential Run And Political Views
From New Year's Eve in 2018, Volodymyr Zelenskyy led a nearly wholly virtual presidential campaign. He won the first round of elections in March before winning the run-off in April. In his campaign, he continued touring with Kvartal 95. Eventually, on April 21, 2019, he was elected president of Ukraine managing to unseat incumbent Petro Poroshenko.
While serving as the Ukrainian president, Zelenskyy has been a notable supporter of e-government. He has also championed the promotion of unity between the Ukrainian- and Russia-speaking parts of his country. He is known to employ a communication style that insists on the use of social media.
Among his accomplishments, he managed to oversee the elimination of legal immunity for the members of Ukraine's parliament and worked to fight corruption in government. Zelenskyy has also strived to end the war in Donbas while resolving that region's Russia-sponsored separatist movement. Nonetheless, his critics allege that he has attempted to centralize authority by eliminating power from Ukrainian oligarchs.
Volodymyr Zelenskyy has sought to create the Ukrainian economy to attract investment. With regards to foreign policy, he has wanted Ukraine to become a member of the EU and NATO. Looking at the domestic front, the president supports the free distribution of medical marijuana; free and safe abortions, and legalization of prostitution and gambling.
He also defended many other controversial freedoms in Ukraine, including the freedom for the artists to express their political attitudes.
In September 2019, it was discovered that Donald Trump had participated in a quid pro quo with Zelenskyy in which he tried to block some payments of a congressionally mandated military aid package to Ukraine to pressure Zelenskyy to dig up dirt on Joe Biden. That event led to the Trump-Ukraine scandal and the first impeachment of Trump.
Personal Life
In 2003, Volodymyr Zelenskyy married screenwriter Olena Kiyashko, whom he met in school. The couple has a daughter, Oleksandra, and a son named Kyrylo. Their daughter appeared in Zelenskyy's 2014 film "8 New Dates," and then participated in "The Comedy Comet Company Comedy's Kids" television program.