Jason Momoa is an American actor, director, model, producer, and writer who has a net worth of $25 million. Even though Momoa first gained some recognition for playing Khal Drogo in HBO's "Game of Thrones," he is currently best known for playing Aquaman in the DC Extended Universe. Away from these two major roles, Jason has appeared in several films and television projects.
Joseph Jason Namakaeha Momoa was born on August 1, 1979, in Honolulu, Hawaii. He was raised as an only child by his painter father and photographer mother. He has Hawaiian ancestry on his father's side and European heritage on his mother's side.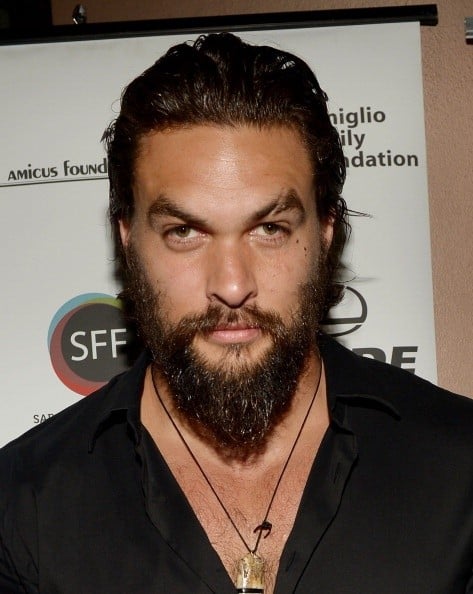 Career
Jason Momoa started his career as a model, and he was discovered at 19 years old by several renowned designers. In 1999, he started his acting career and took up the role of Jason Ioane on the series "Baywatch Hawaii." Before he signed onto that role, he was working part-time in a surf shop. He followed up with several roles in the early 2000s in the Johnson Family Vacation" and the series "North Shore."
In 2005, Momoa booked a highly memorable early role as Ronon Dex in the "Stargate Atlantis" series. He appeared on that show until 2009. In the same year, he appeared in four episodes of 'The Game.' In 2011, he was the main antagonist in the reboot of the classic 80s film "Conan the Barbarian."
After he showed off his ability to play a warrior in the film, Jason Momoa got a chance to audition for the role of Khal Drogo in HBO's "Game of Thrones." When he was filming his audition tape, he performed a warm dance, Haka, which was made famous by the Maori. He booked this role and got massive recognition in the hit series. His character was killed off in 2012.
In 2014, he co-wrote and directed 'Road to Paloma,' a film that premiered at the Sarasota Film Festival. Additionally, it had a limited theatrical release. Momoa later appeared in the dark comedy "Sugar Mountain" later in 2014.
Then, he returned to television with a yearlong role as an Indian on the show "The Red Road." 2014 was busy and successful for him since he finished it off by landing the enviable role of Aquaman in the DC Extended Universe.
Nonetheless, it was not until the release of "Batman v Superman: Dawn of Justice" in 2016 that he was seen as Aquaman on the big screen – and it was just a cameo. He finished 2014 with roles in movies like 'Debug' and 'Wolves.'
In 2015, it was confirmed that he joined the casts of two films: 'Braven' and 'The Bad Batch.' He played a bigger role as Aquaman in the 2017's follow-up film "Justice League." He managed to reprise his role via voice acting in 2019's The Lego Movie 2: The Second Part."
In 2017, it was said that Jason would take on a leading role in the film franchise "Just Cause," which is based on the video game series of the same name. In 2018, Jason Momoa joined the cast of Apple's new series 'See.' In 2019, it was stated that he had got the role of Duncan Idaho in Denis Villeneuve's sci-fi epic "Dune."
Aqauman Salary And Earnings
Jason Momoa earned $3 million for the first Aquaman movie. With the back-end points his eventual payday on the first movie might have exceeded $7 million. On the huge success of the first film, he managed to negotiate a significant raise for the sequel. He eventually got $15 million for the second installment.
In 2020, Jason Momoa appeared in a Super Bowl advertisement for Rocket Mortgage. In the same year, he helped promote Ozzy Osbourne's new album "Ordinary Man," where he appeared in a teaser for the song "Scary Little Green Men."
Jason Momoa Special Skills And Personal Interests
Momoa started martial arts training in 2005 when he got the role of Ronon Dex in "Stargate Atlantis." Later, he took up Brazilian jiu-jitsu in 2017. To help him nail a war cry in the series 'See,' he also got some special training from Oli Peters, the lead singer of a death metal band by the name Archspire.
Jason is a huge fan of all kinds of heavy metal music. He once said that he uses some heavy metal songs as inspiration when creating his film characters. Archspire is his favorite band and the members of this band have made cameos in the 'See' series with Momoa's invitation. Jason is a major tattoo enthusiast, and he has a tattoo dedicated to his "aumakua," a deified ancestor in Hawaiian tradition. This tattoo takes most of his left arm.