Danny Trejo is an American film and television actor with a net worth of $500 thousand. Trejo is known for his appearance in many films in which he mostly plays characters who are mostly hyper-masculine, villainous anti-heroes.
He is famous for starring in movies like the "From Dusk Till Dawn" franchise, "Con Air," "Desperado," "Heat," "Reindeer Games" and "Grindhouse." Away from his film and television career, Danny is also an entrepreneur. He owns a record label, multiple coffee & donut shops, and, most interestingly, a restaurant chain called Trejo's Tacos. Trejo's Tacos has five locations around Los Angeles.
Bankruptcy
In February 2023 Danny Trejo filed for Chapter 11 personal bankruptcy. This filing came after he accumulated nearly $2 million worth of IRS debt. Based on an interview he gave with TMZ on the day of the filing, the debt was mainly related to mistaken deductions.
Early Life
Danny Trejo was born in Echo Park, Los Angeles, on May 16, 1944, to Dionisio "Dan" Trejo and Alice Rivera. At one point when Danny Trejo was still a toddler, the family fled to San Antonio, Texas after his father was accused of stabbing a man.
After a year of living on the run in Texas, the family returned to LA and his father surrendered to the police. When he was 13 years old, the family moved to the Pacoima area of Los Angeles.
In the 1960s, Trejo was in and out of jail and prison in California. He had already developed a drug and crime habit by the time he was 12. He got arrested for the first time at the age of 10 and was sentenced to go to a juvenile center.
While serving out a sentence in San Quentin, Trejo decided to take up boxing. Eventually, he became a champion boxer in the prison's lightweight and welterweight categories. During this time, he joined a 12-step program that enabled him to overcome his drug addiction. After the final release from incarceration, he enrolled as a student at Pitzer College in Claremore, California, but left after just one semester.
Danny Trejo Career Beginnings
While attending a Cocaine Anonymous meeting in 1985, Trejo met a young man who later called him for support. He ended up meeting him on the set of "Runaway Train" (1985) and was offered a role as a convict extra, maybe due to his tough appearance.
On set, Trejo was recognized by Edward Bunker, a well-respected crime author who was the screenplay writer for "Runaway Train". Bunker had also previously served in San Quentin, which is how he managed to recognize Danny Trejo, and remembered Trejo's boxing skills. Bunker gave Trejo $320 daily to train one of the movie's stars, Eric Roberts, for a boxing scene they had to film. Andrei Konchalovsky, the film's director was highly impressed by Trejo's work and offered him a small role as a boxer.
In his whole acting career, Danny Trejo is known for his unique appearance, which includes long hair, facial scars, a mustache, and many tattoos. Since featuring on "Runaway Train", Trejo has enjoyed many roles in his highly prolific acting career.
Sometimes, he has appeared in five or more movies annually, across different genres. He has appeared in at least 15 major releases over the years. Moreover, his life is documented in the 2005 independent biographical film "Champion". Trejo produced his first film, "Ambition", in 2014 and then followed it up with another film "Bad Asses" that same year.
Since 1990, Danny has appeared in more than 70 different television shows with some of the well-known including "Baywatch" (1991-1992), "NYPD Blue" (1996-1998), "The X-Files" (2000), "Monk" (2004), "Desperate Housewives" (2005), "Bones" (2011), "NCIS: Los Angeles" (2014), "American Dad!" (2017-2019), "Blue Bloods" (2019), and "Dynasty" (2020).
Although in film and television, Trejo is mostly typecast as a thuggish, rugged character, he has also appeared in some sympathetic roles, for instance in "Bubble Boy", "Spy Kids", and "Monk". His appearance in season 2 of "Desperate Housewives" is a great example of him as a more sympathetic character; he helps Gabrielle with the grief of losing her unborn child.
Trejo also has an extensive list of music video cameo appearances. Some of the examples include the videos for the songs "Double Blade" (2003) by Jay Chou, "Got It Twisted" (2004) by Mobb Deep, "Angel in Blue Jeans" (2014) by Train, "Loco" (2013) by Enrique Iglesias, and "Repentless" (2015) by Slayer.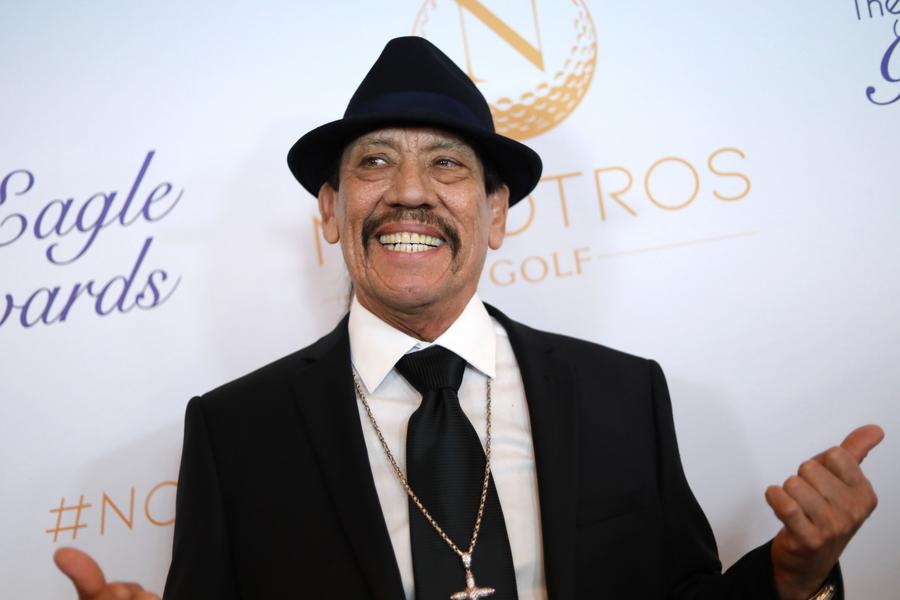 Other Ventures
Danny Trejo has lent his voice to the video games "Grand Theft Auto: Vice City Stories" (2006), "Grand Theft Auto: Vice City" (2002), and "Fallout: New Vegas" (2010). He has also appeared in "Taco Run!" (2018), "Call of Duty: Black Ops" (2010), and "Call of Duty: Black Ops 4" (2019).
Trejo is also successful in the Restaurant business. The first restaurant that he launched was Trejo's Tacos in 2016, followed by Trejo's Cantina and Trejo's Coffee & Donuts in 2017. The restaurants are overseen by executive chef Mason Royal.
Danny is the second cousin of filmmaker Robert Rodriguez, a relationship that they discovered when filming the movie 'Desperado.'
Real Estate
Danny Trejo owns multiple homes in the LA area. In June 1999 he paid $130,000 for a home in the LA suburb of Pico Rivera. A relative occupies that home currently.
His main residence since 2012 is a home in Mission Hills, California which he acquired in 2012 for $550,000.