Lenny Kravitz is a Grammy-winning American singer who is also a musician, songwriter, record producer, and actor. He has a net worth of $90 million. Kravitz has released 11 studio albums, selling over 40 million copies, and his first album, 1989's "Let Love Rule," went Gold in multiple countries including the United States.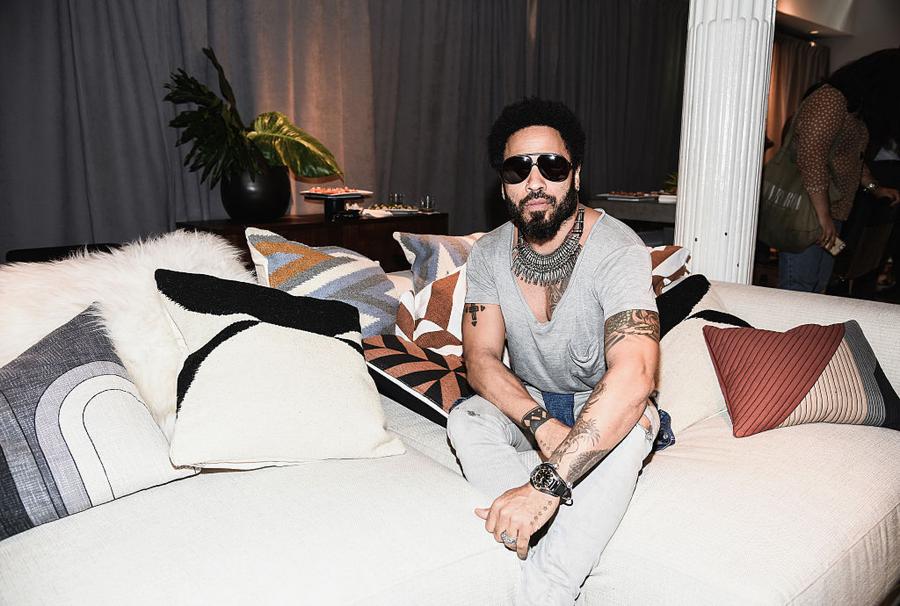 "Are You Gonna Go My Way" (1993) and "5" (1998) became certified 2X Platinum. Also, his 1991 single "It Ain't Over 'til It's Over" surged to its peak at #2 on the "Billboard" Hot 100 chart. Lenny Kravitz has also appeared in multiple film and television projects, including "The Hunger Games" (2012), "Precious" (2009), and the FX series "Better Things" (2016).
In 2011, Kravitz accepted France's highest honor, becoming an Officer of the Ordre des Arts et des Lettres.
Lenny Kravitz was born on May 26, 1964, in New York City as Leonard Albert Kravitz. Roxie Roker, his mother, was an actress who was best known for "The Jeffersons," and his father, Sy, was a renowned news producer for NBC. Lenny is a second cousin of TV weatherman Al Roker.
Kravitz's father and mother came from Jewish and Christian families, respectively. However, he was not religious until age 13 when he started going to church. Later, he decided to become a non-denominational Christian.
Lenny Kravitz started using pots and pans as drums when he was 3 years old. By the time he was 5, he had decided to become a musician when he grows up. During his youth, he played guitar and drums and enjoyed listening to R&B, jazz, gospel, and blues.
Lenny studied at P.S. 6 elementary school in Manhattan. Later, he moved with his family to Los Angeles after Roxie was cast on "The Jeffersons." Lenny Kravitz spent up to three years in the California Boys Choir, and he performed meticulously with the Metropolitan Opera.
Later, he started listening to rock bands like The Rolling Stones, Led Zeppelin, and Pink Floyd. Lenny then attended Beverly Hills High School with future stars Nicolas Cage, Slash, and he started playing bass and piano. After he graduated in 1982, Lenny Kravitz went on the road, performing under the name "Romeo Blue."
Lenny Kravitz Music Career
Kravitz started recording his first full-length album in the mid-1980s. The project was funded by his father. He partnered with Henry Hirsch, a keyboardist/bassist/recording engineer, and saxophonist Karl Denson. His friend Stephen Elvis Smith started managing him and got five record labels fighting over Lenny Kravitz.
He signed with Virgin Records in January 1989. A few months later, the album "Let Love Rule" was released in September of the same year. In 1990, he helped write and produce Madonna's "Justify My Love," which became a #1 hit.
Between 1991 and 2019, Lenny Kravitz was involved in over 50 successful projects ranging from films to music albums and they were all hits and performed exceptionally well on different charts.
Other Work
Lenny launched Kravitz Design Inc. in 2003 which was involved in residential and commercial design. In 2017, a Hollywood Hills home with interiors perfectly designed by Lenny Kravitz was listed on the market for $38 million. He designed two cameras for Leica, and in 2019, a great exhibition of his photos happened at the Leica Gallery in Germany.
Over the years, Kravitz has enjoyed a successful acting career, earning award nominations for his performance in "The Hunger Games" and "Precious". He also featured in "The Butler" (2013) and "The Hunger Games: Catching Fire" (2013). He also had cameos as himself in "The Diving Bell and the Butterfly" (2007), "Zoolander" (2001), and "Zoolander 2" (2016).
In 2016, Lenny had a recurring role as Roland Crane on the Fox series "Star." Kravitz has been nominated for nine Grammy and won some of them including an assortment of other awards.
Real Estate
In 2001, Lenny Kravitz paid almost $9 million for a 6-bedroom, 10-bathroom home in Miami. He later sold the 12,000-square-foot mansion for a nice $14.5 million in 2005. He has also owned homes in Brazil, Paris, New Orleans, and the Bahamas. Notably, he sold his Manhattan duplex penthouse to Swizz Beatz and Alicia Keys for $14.995 million in 2010.