Moment Drink is an all-natural drinks firm launched by entrepreneurs, Faheem Fajee and Aisha Chottani. They came to the 12th season of the popular show, Shark Tank and shared the concept of their company to the Sharks. To make the firm a functioning reality, they required an investment deal of $200,000 for 10% of the company.
Did Moment Drink get the deal and where are they today?
The company sells natural drinks that are made with the purpose of relieving stress. In most cases, they are sold as anti-stress meditation in a canned beverage that alleges to be free of caffeine, artificial sweeteners, added sugars, and many other nasties.
You can learn a lot about the product and brand by following the company on Instagram and watching this YouTube Video.
How Was Moment Drink Launched?
The Moment Drink Company was established by a husband and wife duo Aisha Chottani and Faheem Fajee. Both of them have many years of experience in high-powered positions as management consultants.
In general, with these kinds of positions, you will have a majorly busy schedule that can result to anxiety and stress. The couple could not even meditate to regain clarity and focus and they wanted a solution for this.
Notably, being entrepreneurs themselves, they began looking for stress-relieving benefits of natural substances like adaptogens and botanicals. After that, they started wondering whether they could come up with a drink from them. Just there and then, their research began and the idea for the Moment Drink brand was launched.
What Happened On Shark Tank?
Faheem Fajee and Aisha Chottani came on the Shark Tank show with the high hopes of securing a deal of $200,000 for 10% equity of the firm. Sadly, none of the sharks offered them a deal and they walked away from the show without securing any deal.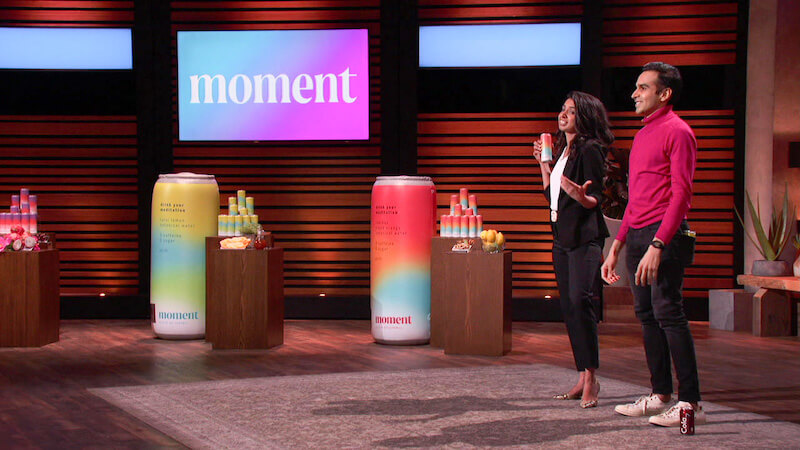 Where Is Moment Drink Currently?
After the appearance on Shark Tank, the Moment Drink team never gave up hope and they went on to be quite successful with the brand and the firm.
Today, they are selling more than three flavors of the Moment Drink. These flavors include Rooibos Blood Orange (manufactured using rooibos tea, blood orange, and thyme), Hibiscus Dragon Fruit (manufactured with hibiscus petals, dragon fruit, black cherry, and Ceylon cinnamon), and Tulsi Lemon (with Meyer lemon, tulsi/holy basil, and cardamom).
You can buy these drinks from Amazon and from their online store. They provide an online subscription package on their website and you can even buy their drinks for wholesale reasons. As of December 2021, the company posted revenue of around $5 million and is expected to grow further in the coming months.