Tripp Phillips is a 14-year-old inventor who is also the founder of the Le Glue product. He launched the Le Glue LLC brand in 2015. Le Glue is a water-soluble adhesive glue that is used for Lego pieces.
At the time, his dad decided to invest around $1,000 into the new firm to see whether they could make some units of the product and then sell them.
Tripp together with his dad went to the Shark Tank show and appeared on the first episode of the 10th season. When they went to the show, they were hoping to impress the sharks and ensure that they got a deal of at least $80,000 for 15% equity in their company. They managed to leave Shark Tank with a deal, but where is the company now?
What Does The Le Glue Firm Do?
The Le-Glue company mainly sells a non-permanent adhesive that was designed particularly to glue together structures that are made out of building blocks like the Mega Bloks and Lego.
Tripp together with his parents ensured that this product is non-toxic and that it would not gradually corrode the Lego blocks on which it is used.
You can learn more about the company and everything that they do by watching this YouTube Video and visiting its Instagram page.
How Was The Company Launched?
Whenever Tripp played with his Lego Blocks and set up something, it would eventually fall apart and this never went down well with him. That made him wish that he had some temporary glue to ensure that he kept his creation together.
Fortunately, his dad is a lab scientist and it seems to be running in the family. Tripp shared his idea with his teacher and his dad and they all loved the Le Glue idea.
Tripp teamed up with his dad to create Le-Glue. In 2015, he set up a Kickstarter campaign that managed to raise nearly $4,000.
What Happened On The Shark Tank Episode?
Tripp was accompanied by his dad to the Shark Tank show with hopes of getting an investment deal of $80,000 in exchange for 15% equity in the firm.
After their impressive pitch, Kevin O'Leary offered them $80,000 for 25% equity coupled with a 50% royalty on any of the licensing deals until he recovers all his money, and then his equity goes down to 20%. On the other hand, Daymond John offered the same deal as Kevin without any other conditions. Eventually, the team made the deal with O'Leary.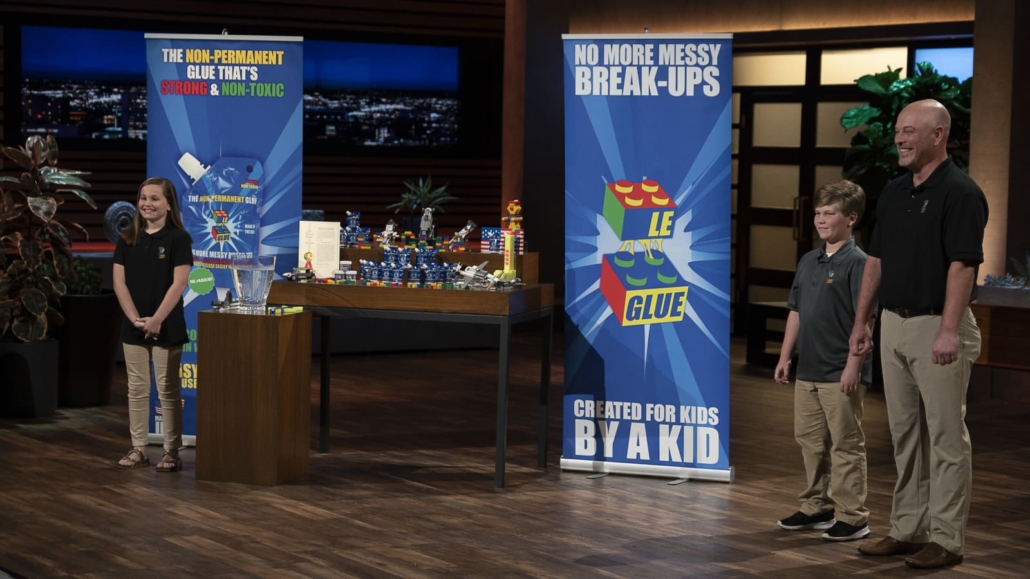 Where Is Le Glue Today?
Le-Glue was privileged to appear on the Greatest of All Time Special Episode of Shark Tank in February 2020 in the baby sharks category. By November 2021, the company had generated more than $1 million in revenue and now averages between $17,000 and $20,000 in monthly revenue. The company has a net worth of $1.8 million as of April 2022.
You can acquire the Le Glue Adhesive products from most of the retail stores and online spaces globally, which include Amazon and Walmart. Notably, their products are also available for purchase directly from their online store.